General Information
 Library Participation and Procedures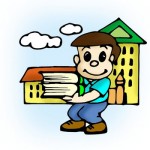 Students come to library once a week.
Books may be checked out for a two week period and then they are due back to the library on the student's library day.
Books may be rechecked one time for a second two week period.
There are no charges for overdue books; however, students may not be allowed to check out new books if they have an overdue book.
The library does charge for damage to books.
If a book is damaged beyond further use or lost, students will be asked to pay for the book.
Normal charges for lost books are $10.00 for paperback books and $20.00 for hard back books including picture books.
Leave a Reply